This weekend we went to the Bite of Las Vegas event. I knew the forecast was in the 90's, but somehow thought it'd feel cooler since it's mid-October. Nope. It was sweaty. But throw in some ridiculously delicious fresh kettle corn, mango lemonade and barbecue, and it's maybe worth it. Bauer seemed kind of hot and miserable in the stroller, but he didn't want to walk around either. Emberly wanted to eat something from every booth and ride every carnival ride there.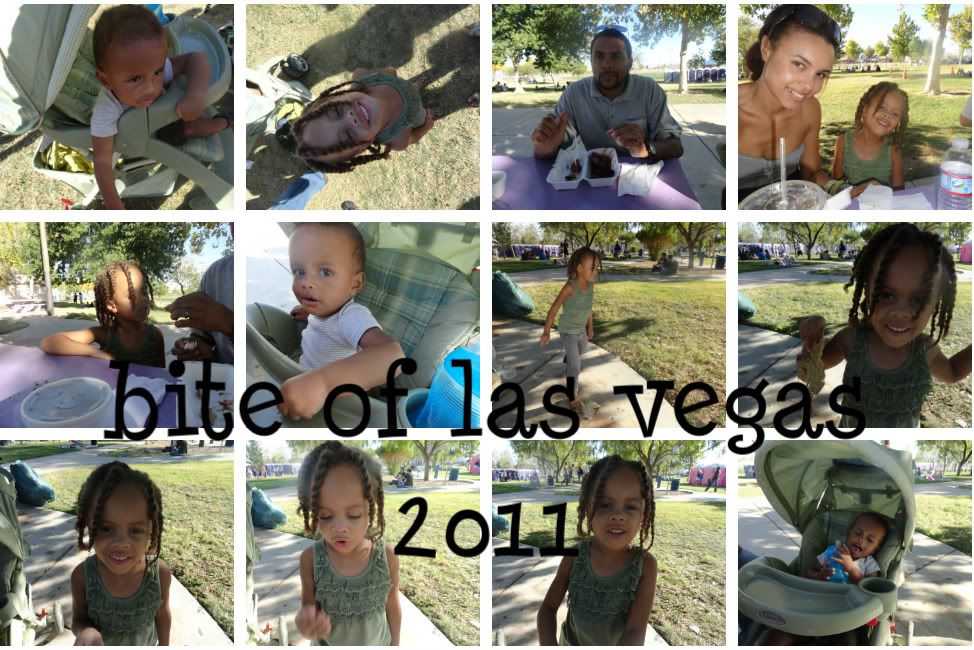 Then Sunday Emberly and I went to the farmers market for coffee and salsa and then to the last day of an awesome children's consignment sale where most items were 50% off the already bargain prices. She was a pretty good sport while I poured through the racks and bins, so when she asked for a hot dog from a vendor outside, I obliged.

I love her hair in this twist hairstyle because it's almost like wearing it down. And it's actually one of the easiest styles to do. But she puts up such a dramatic performance anytime she's getting her hair combed lately (... or ever, really) that I'm seriously contemplating a drastic haircut in her near future that's more wash-and-wear. She's not opposed to the idea as long as I don't make her look "like a boy" (her face is not the least bit masculine, so she'd make for one pretty boy, in my opinion). And then by the time it's gotten to this length again (it's considerably longer than shoulder length when straight), she might be more mature about having it styled, or at least she'll have a deeper pitched whine that won't grate my nerves so much.